Soundrawings: Barcelona oct2019/feb2021, 2021, drawing
back to main menu
"It's a joy to see fire where there were open stores and cafés"
Cristina Morales
During the protests of October 2019 violent actions erupt, breaking the silent normality. Riots inundated the center of Barcelona, starting fires, making barricades, breaking glass and adding a small robbery of a shop or another to the mix. Very young people were mostly responsible for these acts. The violence was mostly against street furniture and commercial structures. In parallel, helicopters and police sirens were a constant sound, anticipating a different type of violence. A few blocks away, in Laia's studio, Yasmin was drawing. Similar actions to the ones of October 2019 take place on February 2021 as a response to the jailing of Pablo Hásel. All this breaking gave birth to Laia's drawings, drawings that here dialogue with ones made by Yasmin's much smaller hands. Following Soundrawings with our eyes, they are hit with three thoughts: The first, that a drawing can ignite a sound in a free and non-representative way, as if what is most important here is the action generated by bodies (similar to what both small children and young protesters do). The second is that pandemic and grief can appeal to an unruly and animistic desire to talk to the abandoned objects found in the urban landscape. The third is that that silent normality already exercised a shrill and inflammatory violence before all this happened.
Text by Anna Coromina and Aviv Kurglanski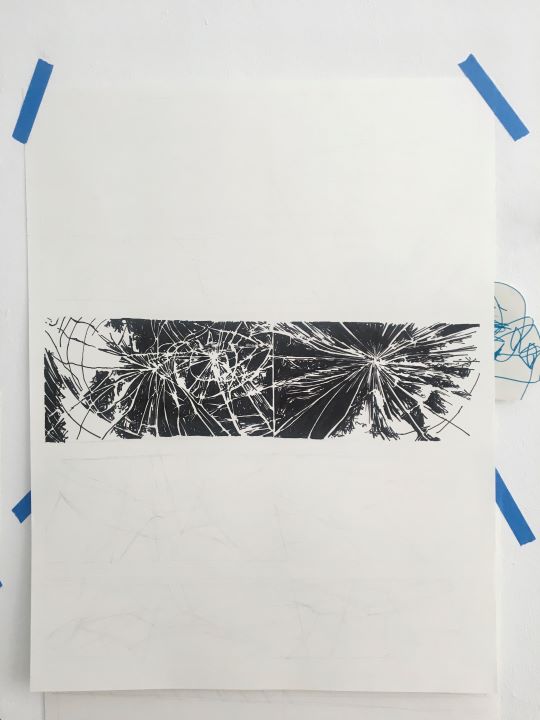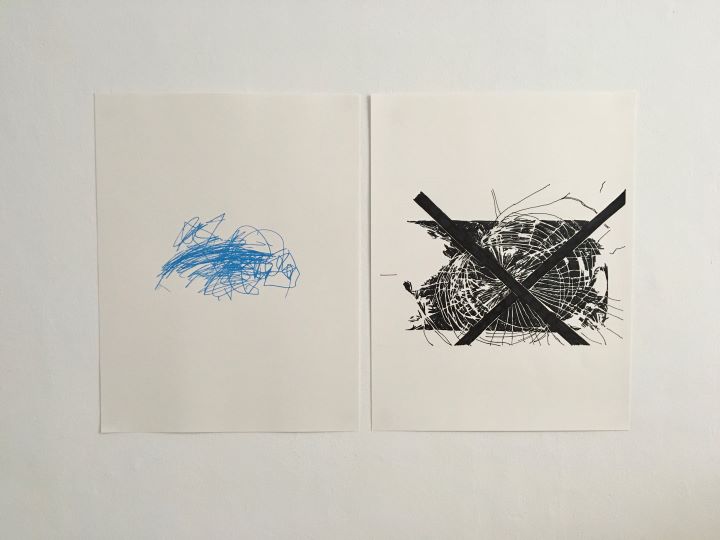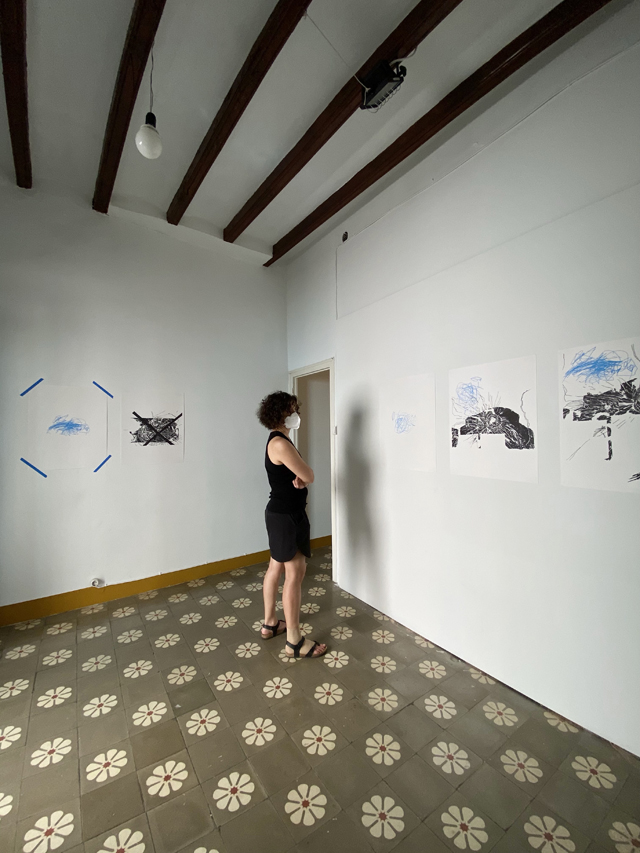 "Es una alegría que haya fuego en vez de tiendas y cafeterías abiertas"
Cristina Morales
Durant les protestes de l'octubre del 2019 esclaten accions violentes que trenquen el silenci de la normalitat. Disturbis que inunden el centre de Barcelona, calant foc, fent barricades, trencant vidres i propiciant algun saqueig. La majoria d'aquestes accions van ser en mans de gent molt jove. Una violència –sobretot- contra el mobiliari urbà i comercial. En paral·lel se sentien helicòpters i sirenes de policia sense parar. Sons que anticipaven una altra tipus de violència. Unes quantes cases més enllà, a l'estudi de la Laia, la Yasmin dibuixava.
Accions molt similars es tornen a desencadenar el febrer del 2021 davant de l'empresonament de Pablo Hásel.
De tota aquesta trencadissa entre l'octubre del 2019 i el febrer del 2021 surten els dibuixos de la Laia dialogant amb els dibuixos de mans més petites (Yasmin Kruglanski Coromina). Resseguint amb els ulls Soundrawings ens colpegen tres pensaments: El primer, és que el dibuix pot encendre un so de forma lliure i no representativa com si el més important fos l'acció que es genera amb els cossos (igual que ho fans les nenes petites i les joves protestants). El segon, que la pandèmia i el dol poden apel·lar al desig animista i ingovernable de tornar a parlar amb els objectes abandonats del paisatge urbà. El tercer, que la normalitat silenciosa ja exercia violència d'una forma estrident i inflamable.
Text d'Anna Coromina i Aviv Kruglanski
Soundrawings integrates a series of actions exploring the connections between sound and drawing. It explores too drawing as a response to that which comes towards us, gesture, and flow.
Barcelona oct2019/feb2021 is one of the first actions within Soundrawing that puts in relationship two moments/soundscapes in Barcelona, and a dialogue between my drawings -iniciated in feb2021- and those of two-year-old Yasmín -which had been sitting in my studio since october 2019.
"Soundrawings" és un conjunt d'accions que explora la connexió entre el so i el dibuix. És també, l'exploració del dibuix com a resposta a allò de la realitat que ve a trobar-nos, del gest i també del "flow" o experiència òptima. "Barcelona feb2019/oct2021" és una de les primeres accions que posa en relació dos moments/paisatges sonors de la ciutat de Barcelona; i és també un diàleg entre els meus dibuixos -iniciats el febrer de 2021- i els de Yasmín, una nena de dos anys, que han estat a les parets del meu estudi des d'octubre de 2019.